Extension cords are great tools to have around the house, especially if you do a lot of outdoor activities and projects that require power but can't be done too close to an outlet. However, many people use their extension cords as intended; they connect two outlets to plug in two items at once or get more length out of their outlet if they don't have room to keep the wall-wart plugged in. 
While this is just one of the observations in most homes or workplaces, planning and using creative ideas to use and manage extension cords is also a challenge. So, if you want to make the best out of your extension cords, here are five creative ways to help you use your extension cords. 
Use cord wraps to hold your cables in place.

 
Cord wraps are a great way to keep your extension cords organized and tangle-free. Simply wrap the cord around the object you're storing it on, and then secure the cord in place with a hook or Velcro strap. This is a great way to keep cords from getting tangled up in storage, and it also makes it easy to grab the cable you need when you're ready to use it. It's even better to have multiple extension cords that might get mixed up. Identifying the suitable cable you want to use can be challenging if they're all coiled together at the bottom of a bag.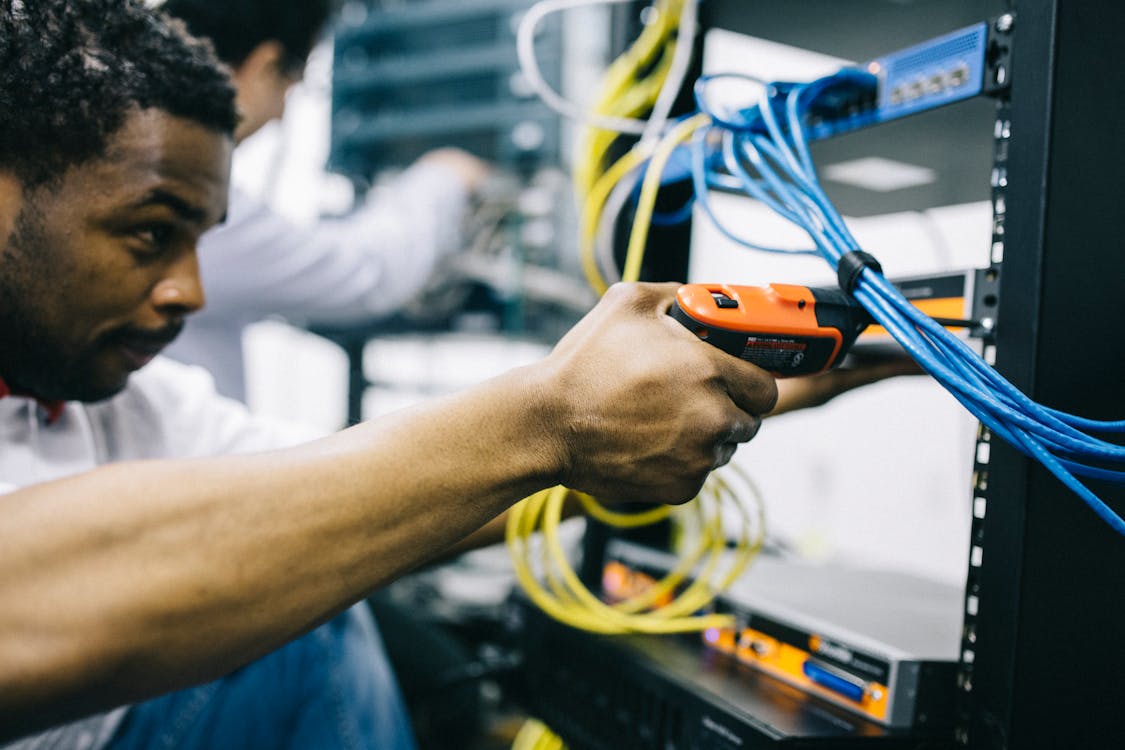 2.Bury your cables underground
When you are working on a big project requiring a lot of extension cords, keeping them all above the ground can be a pain. Therefore, burying your cables underground is a creative way of keeping them hidden and out of reach for kids and animals like dogs who like playing around with objects. Additionally, it will also help protect your cords from damage by UV rays and saves on time used to lay cables each morning, as well as bundling them for storage in the evening. 
To bury your cables underground, you may first need to protect them from weather elements, mainly if you use an extension cord with a switch or burrowing animals using cord cover kits or passing them through PVC pipes. Although this method requires some extra effort, it is worthwhile in the long run. 
Be sure not to create any safety hazards by digging under the gas or electric cables or near other hazardous substances like septic tanks or pools. 
3.Store them in a large floor basket
Storing cords can be daunting, especially if you have a small living space. In most cases, your cables are scattered all over the floor, making your room untidy. But did you know that using a woven basket can help organize your cords and make them easy to locate and retrieve? 
Floor baskets are a great way to organize any room in your house and can be used for various purposes. But did you know that one can also utilize them to store extension cords? Just coil the cord up and place it in the basket. This is an ideal way to keep cords from getting tangled and out of sight. 
4.Keep Cords from Tangling or Fraying using a PVC pipe
If you have a lot of cords in one area, keeping them from tangling or fraying can be difficult. One way to do this is to use a PVC pipe. You can keep the cords from getting tangled by running the cables through PVC pipes or other objects that can help keep them intact. 
Another way to keep cords from tangling is to use zip ties. Zip ties are great for keeping cords together and organized. To make sure they stay together, all you need to do is zip-tie each end of the cable. It's also a good idea to leave some slack so you don't damage your cables when using them. Some people like to cut the zip ties once they're tight on the cables, but others prefer to not cut the zip ties until after they're done with their project. 
5.Paint cords to camouflage them
If you have visible extension cords, painting them can be a great way to help them blend in with their surroundings. This is especially useful if you have cables running along the base of a wall. Plus, it's a relatively easy project that anyone can do. Just grab some painter's tape and an old brush from your garage and get to work! It will take about 20 minutes, depending on how long your cords are. Once the paint has dried, pull off the painter's tape and enjoy your new cord camo-job. 
Painting extension cords is an excellent idea because it helps hide your cords from unauthorized users-like kids who may want to play around with them. It also helps protect your cards from the harmful UV rays, making them last longer. 
Parting shot
Whether trying to be more efficient with your cords or just looking for a way to get rid of some clutter, these five creative ways to use an extension cord will help you out. And who knows, maybe you'll find a new way to use them that we didn't think of. So go ahead and give them a try!